Student visa
for English language courses
longer than 11 months
Student visa
The Student visa is required for all international students who want to study English in the UK for longer than 11 months. It is also for students who want to study other subjects in the UK for longer than six months.
Anyone who wants to study an English language course for between six and eleven months can do so on a Short-term study visa. Anyone who wants to study any subject in the UK for less than six months can study as a visitor.
Key facts: Student visa
Eligible courses: the student must have an unconditional course offer to study at an institution that has a Student sponsor licence. The course must include at least 15 hours of study per week. Visit GOV.UK to see the list of Student Sponsor institutions.
English language requirements: a government-approved language test is required to prove that the student already has an intermediate level of English language. read more +

Age restriction: students must be 16 years or older to apply.

Work rights: some students studying English language courses with a Student visa can work part-time (10 hours per week during term time).
Visa length: depends on the length of the course and the level of study. For courses below degree level students can usually stay in the UK for up to two years. For degree-level courses students can usually stay in the UK for up to five years.
Visa extensions: students can apply to extend their Student visa without leaving the UK if they want to take a longer course or study a new course at higher level.
The application cost is GBP348,

plus GBP470+ fee for the

immigration health surcharge.
How to apply for a Student visa
When and where to apply:
Students can apply for the Student visa up to six months before they travel.

They must apply from the country where they are living.
Immigration health surcharge (IHS)
All students who apply for a visa for longer than six months must pay the immigration health surcharge as part of the online visa application. They will then be able to access national health services in the UK during their stay. This includes free doctors appointments and hospital services. For a visa that is valid for between six and 12 months, the cost is GBP470. The cost increases with the length of the visa. Use the government's immigration health surcharge calculator.
Required documents:
Attending a visa application centre
After submitting the application form and required documents, most students need to book an appointment at their nearest UK visa application centre to provider biometric data: their photo and fingerprints. EEA nationals do not need to attend an application centre if they have a biometric chip in their passport. Instead, they scan their passport through an app. 
Check if local application centres are open
Most visa application centres are now open. Visit GOV.UK to find a centre and check its status. If local visa application centres are closed due to Covid-19, it is still possible to start the process online. See ukcisa.org.uk for details. 
Attending a visa application interview
Students may be required to attend an interview. Students should check their emails regularly, including the 'junk' folder to ensure they do not miss the invitation. Students can contact their Sponsor institution for advice if they are preparing for an interview. 
Response times
Students can usually expect a response within three weeks. Some visa application centres offer a priority service for an additional fee, though service times are not guaranteed. Students should apply for their visa at the earliest possible opportunity, up to six months before their planned travel date.
English language requirements
To apply for a Student visa, the student must provide evidence that they already reached an intermediate level of English language. Both the test provider and the test centre must be approved by the UK government, in order for the evidence to be eligible in a UK visa application. The UK government calls this a Secure English Language Test (SELT).
The student's English language level must be CEFR B1 if they plan to study a course below degree level and CEFR B2 if they plan to study a degree level course or higher. These levels are lower-intermediate and upper-intermediate, as defined by The Common European Framework of Reference for Languages (CEFR).
There are five test providers that offer approved tests for visa application purposes:
Not all the tests offered by these providers are accepted. To meet the requirements for a Student visa application:
The test must assess all four skills: reading, writing, speaking and listening abilities.
The test must be at the right level: B1 or B2 depending on the level of the course that the student plans to study.
The test must be an approved Secure English Language Test (UKVI is usually mentioned in the test name).
Students must take the test at an approved test centre. See the list of approved test centres on GOV.UK. Note there are links to two different excel documents: one for approved UK centres and one for approved centres outside the UK.
Students should check with their sponsor institution before booking their test, if they are unsure.
> Find out more about Secure English Language Tests at GOV.UK.
Students do not need to provide evidence of their English language level for a Student visa application if:
They are a national of a majority English-speaking country.

They have already met this requirement, at the required level for the current application, in a previous UK visa application.
They have a GCSE, A Level or Scottish equivalent in English language or literature from a UK school, which they obtained before the age of 18.
COVID-19 INFORMATION
English language centres continue to welcome international students to the UK. The success of the UK's vaccination programme means students can travel with confidence. Some restrictions remain in place to keep everyone safe. There are different requirements for passengers arriving to the UK, depending on where they are travelling from. Read more +
More information on UK visas for students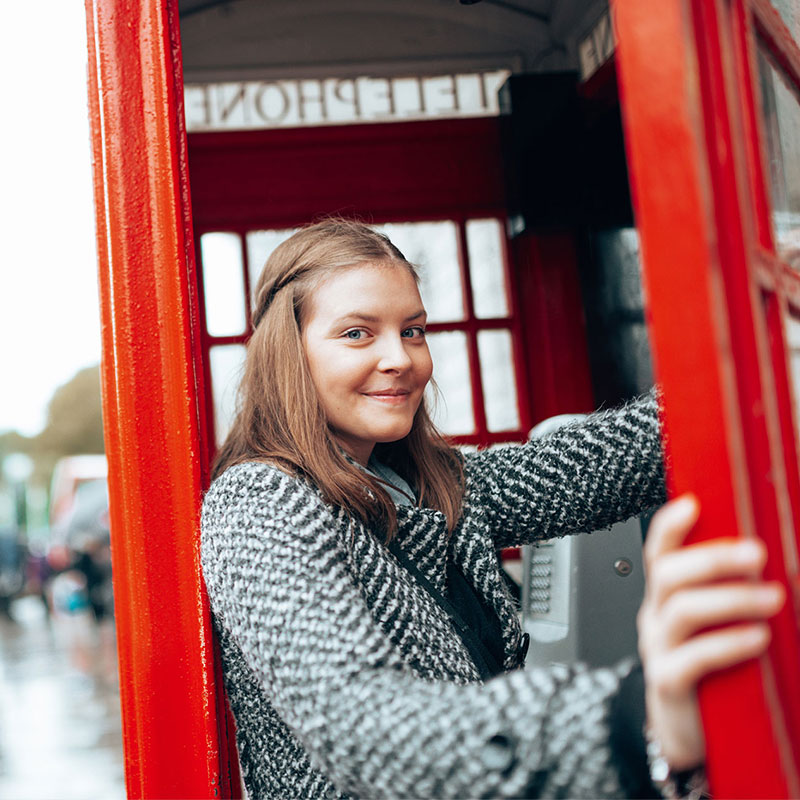 Study for up to 6 months
Many students can study in the UK for up to six months without a visa. Some nationalities need to apply for a Standard Visitor Visa in advance of their trip.