Covid-19
information
For students travelling to
study English in the UK
UK Covid-19 information for students and agents
English language teaching centres continue to welcome international students to the UK. There are now no Covid travel rules for passengers arriving to the UK, so it is easy to travel from anywhere in the world. The Omicron variant caused Covid-19 cases to rise across the UK at the end of 2021, but they have declined thanks to a fast-paced booster vaccination programme. Businesses are open as usual, and students can expect a normal study abroad experience. 
Rules for arriving to the UK
This information was updated on 18 March 2022.
All Covid travel requirements for passengers arriving in the UK ended on Friday 18 March.
No-one needs to take a Covid test before travel or after they arrive. No-one needs to quarantine.
The passenger locator form is no longer required.
What to expect in the UK
This information was last reviewed on 18 March 2022.
Cases of Covid-19 in the UK rose at the end of 2021 due to the emergence of the Omicron variant. They are now on the decline due to a fast-paced booster vaccination programme. While there are differences between the nations of the UK, most public settings remain open and students can expect a close-to-normal experience when studying in the UK.
There are still some measures in place to reduce the spread of the virus.
Face coverings may be required on public transport, in shops and other public indoor venues, such as cinemas, theatres and places of worship. They are not required in hospitality settings where customers need to eat and drink. In England only, face coverings are optional since 27 January.
Working from home is encouraged when possible (in Scotland, Wales and Northern Ireland).
You may need evidence of your vaccination status or a recent negative Covid test to access some events and venues.
Some higher-risk settings may be temporarily closed, including nightclubs and larger events (in Scotland, Wales and Northern Ireland).
Social distancing measures may be in place in some public settings.
Everyone is advised to use lateral flow tests regularly.
Please check national government websites for full details for England, Wales, Scotland and Northern Ireland.
Face coverings
The use of face coverings is encouraged and is compulsory in some public settings (unless individuals are exempt), including on public transport and in shops. Since 27 January in England, face coverings are encouraged, but no longer mandatory.
There are some differences to the rules in the UK's nations. Please check national government websites for full details for England, Wales, Scotland and Northern Ireland. 
Covid tests in the UK
The rapid Covid tests (known as lateral flow tests) are available free from local pharmacies, community testing centres, or by post. Some language schools may ask students, teachers and staff to take regular lateral flow tests, although this will not apply in all cases.
Note that from 1 April in England, free Covid tests will no longer be available, so language schools may not ask students to take regular tests after this date
Until 1 April, PCR tests are available for free for anyone experiencing Covid symptoms in the UK. Language centre staff will explain to students exactly what they should do if they notice any symptoms.
Covid vaccinations in the UK
Everyone in the UK aged over 16 is encouraged to get vaccinated. Those under the age of 16 may be eligible for vaccination depending on their age and circumstances. Booster vaccines are currently being rolled out across the UK at speed.
Any student who lives in the UK and is registered with a GP can access a Covid vaccine. All students in England can register with a GP. They do not need to provide proof of address or immigration status. The NHS will contact the student when it is their turn to have their vaccine. There are also multiple walk-in vaccination centres where eligible adults can have vaccines without an appointment. These are currently available in England , Scotland, Northern Ireland and Wales. There are slightly different rules and procedures for registering with a GP in Scotland, Wales, and Northern Ireland.
Studying in the UK
Accredited English language centres in the UK have to meet high standards of care, and conduct regular risk assessments to help them keep students as safe as possible.
Face coverings in classrooms are not a legal requirement, but language centres may still ask students to wear one in some situations. Speak to your chosen language centre to find out their policy.
Safety measures might change and will depend on each school setting, but may include:

Face coverings may be required in communal areas of the school

Regular cleaning of classrooms and surfaces around the school

Regular handwashing and sanitiser use

Learning, living and socialising with the same group of students (in 'bubbles')

Sitting at the same desk daily, and not sharing study materials

Windows and doors open in classrooms and/ or ventilation systems in use

One-way systems around the school building

Scanning a QR code or signing a register

Virtual receptions and remote working for some staff
Study English in the UK with confidence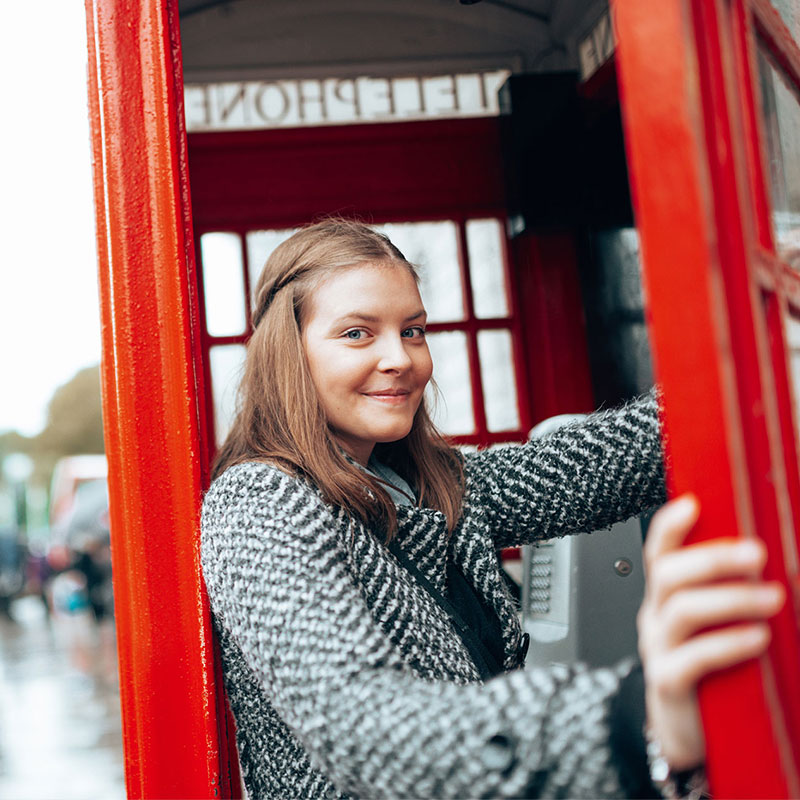 Study for up to 6 months
as a visitor
Many students can study in the UK for up to six months without a visa. Some nationalities need to apply for a Standard Visitor Visa in advance of their trip.