Covid-19
information
For students travelling to
study English in the UK
UK Covid-19 information for students and agents
English language centres continue to welcome international students to the UK. The success of the UK's vaccination programme means most restrictions have been lifted. There are different requirements for passengers arriving to the UK, depending on where they are travelling from, their age and their vaccine status.  
Rules for arriving to the UK
On 4 October 2021 the rules for passengers entering the UK changed. 
Passengers who have been in a red list country in the last ten days must quarantine at a government-approved hotel and take a series of Covid tests.
Passengers arriving from all other countries may need to quarantine in their accommodation or they may be exempt from quarantine if they have been vaccinated under a programme that is approved by the UK government.
From 11 October 2021, most countries will be removed from the red list which means that more students will be able to travel to the UK.
Who is exempt from quarantine on arrival?
Vaccinated adults and under 18s from over 100 countries are now exempt from quarantine on arrival to the UK and only have to take one post-arrival Covid test.  It is important to note that the UK government does not recognise all vaccination programmes and passengers must have the right vaccines to be exempt. For UK travel purposes, a passenger is considered 'fully vaccinated' if: 
They have had a complete course of the Pfizer BioNTech, Oxford/AstraZeneca, Moderna or Janssen vaccines, or a combination of these, at least 15 days before arrival AND


They received their vaccine in a country that is on the

list of countries with an approved vaccination programme.
Under 18s from these countries follow the same rules as fully vaccinated adults.
New countries are joining the list of countries with approved vaccination programmes on 11 October 2021, including Brazil, Chile, Oman, Thailand, Turkey, Ukraine and Vietnam and others.
Summary of current requirements for arriving passengers:
| | | | |
| --- | --- | --- | --- |
| Requirement | Red list | Other countries (fully vaccinated) | Other countries (not fully vaccinated) |
| Passenger locator form | Yes | Yes | Yes |
| Pre-departure Covid-19 test | Yes | No | Yes |
| Quarantine at government-approved hotel | 10 days (those travelling to Wales must quarantine in England or Scotland) | No | No |
| Quarantine at student's accommodation | No | No | 10 days |
| Covid-19 travel test(s) after arrival | Two tests taken on day 2 and day 8 | Day 2 only | 2 tests taken on day 2 and day 8 |
| Test to release available? (England only) | No | Not applicable | Yes - on Day 5 |
If a student has been in multiple countries in the ten days before travel, either visiting or transiting, they will have to follow the stricter rules for the highest-risk country. 
Quarantine requirements
Passengers arriving from red list countries must book a managed quarantine package at a government-approved hotel. See our information for students arriving from red list countries below.
Passengers arriving from other countries who are not considered 'fully vaccinated' under the UK government travel rules must quarantine for 10 days on arrival, in their accommodation. If they are in England, they may be able to end quarantine early if they pay for an additional private Covid test through the Test to Release scheme.
Covid-19 test requirements
Passengers arriving from red list countries, and passengers who are considered 'unvaccinated' for UK travel purposes must:
take a pre-departure Covid-19 test  in the three days before travelling to the UK
book two Covid tests to take in the UK on day two and day eight after arrival
Passengers who are considered fully vaccinated by the UK government, and have not been to a red list country in the last ten days, do not need to take a pre-departure test.  They just need to book a Covid test to take in the UK on day two.
All arriving passengers need to book their test(s) through an approved UK provider before they travel and provide the booking reference on their passenger locator form. Find more information about test requirements on GOV.UK
Testing rules and exemptions for young learners
Children aged 10 years and under do not need to take a pre-departure Covid test.

For passengers arriving to England, children aged five years and above need to book a UK Covid test package.

For passengers arriving

to Scotland, Wales or Northern Ireland, children

aged 11 years and above need to book a UK Covid test package.

Children under five years do not need to take any kind of Covid test.
Passenger locator form
All arrivals to the UK must complete the UK government's online passenger locator form on GOV.UK. The form can be submitted any time within 48 hours before arrival in the UK. All arrivals will need to show their form when they check in to travel or board their plane, train or ferry to the UK. The following information is required:
passport or other travel document details
travel details including times and dates
address details of where the passenger will stay in the UK
booking reference number(s) for any Covid travel tests they must take after arriving in the UK
quarantine hotel booking reference (red list arrivals only).
Information for students arriving from red list countries
Students from red list countries can only travel if they have residence rights in the UK. This includes students who have a Student or Child Student visa, or an 11-month Short-term study visa. Those with a six-month Standard Visitor visa are not permitted to enter the UK from a red list country.
Arrivals from red list countries must book and pay to stay in a UK government-approved quarantine hotel for ten days, unless they are children going to a registered boarding school. They will take Covid travel tests on day two and day eight.
Passengers arriving from red list countries are only allowed to arrive at dedicated ports of entry in the UK. This includes a limited number of airports in England, Northern Ireland and Scotland. There are no designated ports of entry for red list arrivals in Wales. Students travelling to Wales from 'red list' countries must enter via a designated port of entry in England or Scotland and isolate for 10 days in a nearby managed quarantine hotel. If all Covid tests are negative they can then travel to Wales.
Students travelling from a red list country to Wales, Northern Ireland or Scotland can check for specific requirements regarding ports of entry and how to book the right quarantine hotel:
Quarantining for students
Quarantining at student accommodation
It is possible to quarantine at a homestay, student residence or hotel. If all required Covid test results are negative, quarantine will end after ten days and the student can attend classes at their language centre.
English language teaching centres in the UK will assist students who are quarantining to make sure that they have everything they need. Many centres are using online platforms so that students can begin their classes and meet their classmates and teachers while quarantining in their accommodation.  
Arrival and quarantining for young learners
Young learner students (under 18 years old) can travel alone if they are not travelling from a country on the red list. As always, if they are travelling on their own they must have written consent from both parents (or one parent if they have sole responsibility) or their legal guardian. When a quarantine in student accommodation is required, suitable arrangements will be made to ensure children and teenagers are supervised by an appropriate adult at all times.
Children arriving to the UK from a red list country should not be travelling alone. To enter managed quarantine at a hotel, they must be accompanied by a parent, guardian or appropriate adult.
What to expect in the UK
In July 2021, most Covid related restrictions in England were lifted. People can meet in groups of any size and social distancing is no longer required.
The use of face coverings is still encouraged and is still legally required on some public transport networks.
There are some differences to the rules in the UK's other nations. Please check national government websites for full details for Wales, Scotland and Northern Ireland. 
Covid tests in the UK
Rapid Covid tests (known as lateral flow tests) are available free from local pharmacies, community testing centres, or by post. Some language schools may ask students, teachers and staff to take regular rapid tests, although this will not apply in all cases.
PCR tests are available for free for anyone experiencing Covid symptoms in the UK. Language centre staff will explain to students exactly what they should do if they notice any symptoms.
Covid vaccinations in the UK
Any student who lives in the UK and is registered with a GP can access a Covid vaccine. All students in England can register with a GP. They do not need to provide proof of address or immigration status. The NHS will contact the student when it is their turn to have their vaccine. There are also multiple walk-in vaccination centres where eligible adults can have vaccines without an appointment. These are currently available in England , Scotland, Northern Ireland and Wales. There are slightly different rules and procedures for registering with a GP in Scotland, Wales, and Northern Ireland.
Studying in the UK
Accredited English language schools in the UK have to meet high standards of care, and centres that are members of English UK have detailed guidance to keep students as safe as possible.
Schools will conduct regular risk assessments and provide extra guidance for accommodation and social activities. Face coverings in schools and classrooms are no longer a requirement in the UK, but some schools, students and staff may feel more comfortable if they are worn.
Safety measures might change and will depend on each school setting, but may include:

Face coverings may be required in communal areas of the school

Regular cleaning of classrooms and surfaces around the school

Regular handwashing and sanitiser use

Learning, living and socialising with the same group of students (in 'bubbles')

Sitting at the same desk daily, and not sharing study materials

Windows and doors open in classrooms and/ or ventilation systems in use

One-way systems around the school building

Scanning a QR code or signing a register

Virtual receptions and remote working for some staff
Departing the UK
Before departure students should check the entry requirements for their home country or destination. English language centres will provide help and guidance to arrange Covid tests as necessary. If a student needs proof of a negative test to enter another country, they must use a private test provider. The NHS Test and Trace testing service cannot provide documents needed for travel.  
What happens if the student's situation changes after booking?
Everyone knows that Covid restrictions in each country can change at short notice. English language schools and accommodation providers will help students if the situation changes before or during their stay.
Before booking students should be clear on the terms and conditions with regards to postponements and conditions. Many schools have revised their terms and added flexibility in response to the ongoing travel uncertainty.
We always recommend students get good insurance before travelling and discuss with their insurance provider what is covered if travel plans change because of Covid.
If the student's country moves into a higher risk category
If the student's country moves into a higher risk category before they travel to the UK (eg. from the green list to the amber list) the student may need to change their plans. They should contact their language centre to make new arrangements.
In many cases the student will still be able to travel on the planned date, but alternative accommodation plans may be required. If the student's country moves to the amber list, for example, they will need to quarantine at their accommodation on arrival. They may be able to start their English lessons online while staying with a homestay host, before joining their classmates at the language centre.
If

the student has close contact with someone who tests positive for Covid
If a student comes into close contact with someone who tests positive for Covid, they may need to self-isolate for ten days in case they have caught the virus. If anyone in the UK is instructed to self-isolate by NHS Test & Trace, this is a legal obligation. Those under 18 years old do not need to self-isolate unless they test positive. 
Students will have close contact with the people they live with and they will probably be in a limited 'social bubble' at their language centre.
Social distancing measures are in place at UK language centres to reduce the amount of people in close contact. By following the rules carefully, students can reduce the risk that they will need to self-isolate during their trip. If you have any questions about the measures in place, you should speak to staff at the chosen language centre before making a booking.
If a student experiences Covid symptoms while in the UK
If a students experiences Covid symptoms while they are in the UK, they will need to self-isolate at their accommodation and arrange a Covid test. Their school or homestay host can help them arrange to take a test and they should receive the results the next day. If the test result is positive, they will need to self-isolate for ten days (day one is the day the symptoms began).
The language centre will have a plan in place for this situation, and the accommodation provider will explain what the student must do. They will need to try to keep a distance from other people that they live with. The homestay host or residence supervisor will ensure the student has everything they need during the self-isolation period. If the student's return travel plans need to change, language centre staff can support the student to make arrangements.
If the student needs medical help during their period of self-isolation they should ask their school or homestay host to help them. In the UK students can call NHS 111 for free medical advice or they should call 999 if they think they need urgent medical assistance.
Study English in the UK with confidence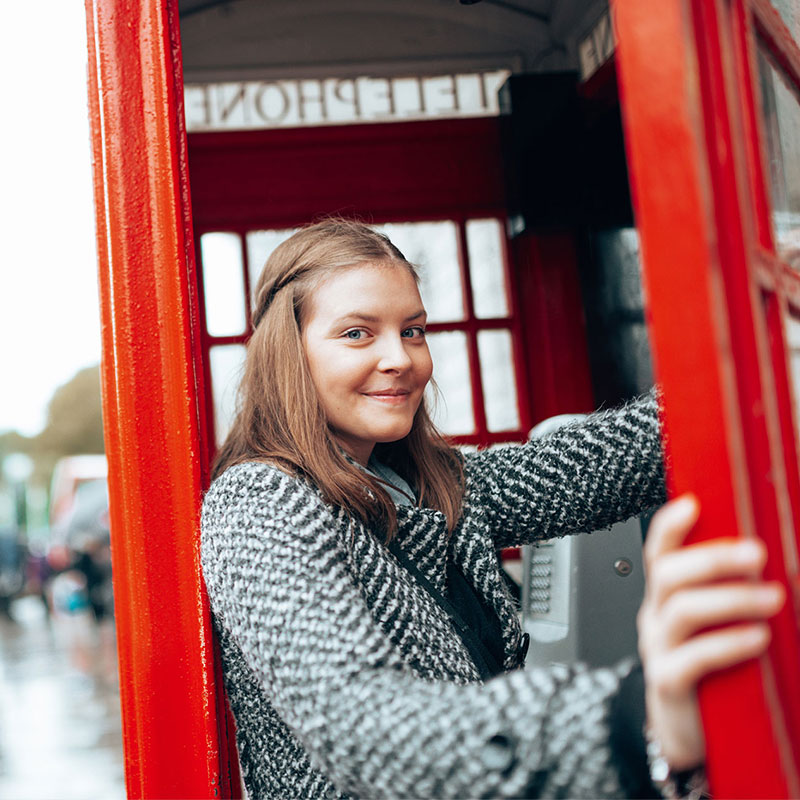 Study for up to 6 months
as a visitor
Many students can study in the UK for up to six months without a visa. Some nationalities need to apply for a Standard Visitor Visa in advance of their trip.